Rigging and
Machinery Moving
M&H Industrial delivers a full range of millwright, rigging and machine erecting services. Whether simple or complex, all jobs receive the same thorough attention and expertise that every customer deserves.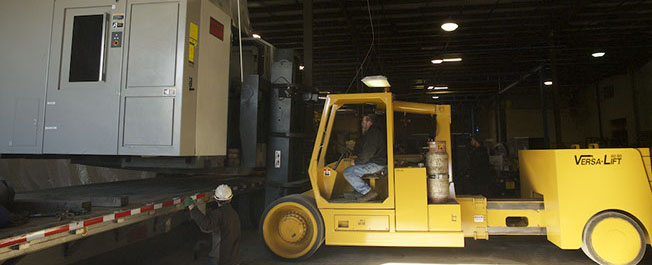 Versa-Lift 60/80
Millwright Services
Transportation: One machine or an entire plant—we'll take care of your specialized moving requirements to ensure a smooth delivery.

Installation: Our skilled millwrights attend to every detail of assembly and installation, so you can return to production as quickly as possible.

Leveling, Alignment and Anchoring: We secure the integrity and safety of your machinery and equipment with engineering accuracy.
Fabrication and Welding: Our certified welders and fabricators are prepared for on-site fabrication and welding situations so the job keeps moving ahead without delay.

Rigging and Erecting: Positioning heavy equipment demands expertise to lift safely and move securely. At M&H, we have combined experience in hydraulics, rigging, heavy machine operations, and millwright capabilities. Safety is always our priority.
Warehouse Storage: Clean and secure interim storage is available at the M&H warehouse facility in Menomonee Falls, Wisconsin.

With a complete line of machine moving equipment—Trucks, Trailers, Hydraulic Gantries, Flatbeds, Lifts, TrakSporter, Versa-Lifts—we're able to provide service for all your machinery and equipment moving requirements.
---
Photo Gallery
Wisconsin Companies Trust M&H Industrial Service